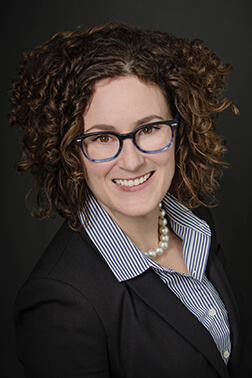 Kathryn (Katie) Casey
Katie is one of only a few Certified Elder Law Attorneys in Illinois. She has practiced exclusively in elder law since 2004. Her practice focuses on long term care planning, estate planning, special needs planning, Medicaid planning and applications, and probate and trust administration. She devotes a substantial portion of her time to helping families plan for the care of a loved one with a chronic care need. Katie represents her clients with a continuity of care that extends from the creation of a long-term care plan through the execution, implementation, and administration of that plan.
Since 2016, Katie has been named as an "Leading Lawyer" in the fields of Elder Law and Trust, Will, and Estate Planning Law by the Leading Lawyers Network. Less than 5% of all lawyers licensed in each state have receive the distinction of Leading Lawyer. Katie has also been nominated by her peers as an Illinois Super Lawyer in the field of Elder Law each year since 2021. The Super Lawyer list recognizes no more than 5% of attorneys in each state.
Katie is a frequent speaker with IICLE on topics including estate and Medicaid planning with retirement benefits and estate and Medicaid planning for married couples.  Katie has also co-authored "Chapter 4 – Drafting Self-Settled OBRA Trusts" for the 2020 Edition of IICLE's "Special Needs Trusts" publication.
Katie is a dedicated bike commuter and enjoys riding 20 miles roundtrip to her office. She also enjoys gardening on the weekends. Katie and her husband, a professor of philosophy at a local state university, reside in Chicago.
Listen to Katie on WGN Radio discuss elder law and answer listener questions, and how to protect your rights as you get older.
I enjoy escorting my clients from problem to solution, helping them plan their future, and giving them peace of mind
~ Kathyrn (Katie) Casey
Awards and Honors
Since 2021, Katie has been selected by her peers as an Illinois Super Lawyer. This peer designation is awarded only to a select number of accomplished attorneys in each state.
Since 2016, Katie has been selected by Leading Lawyers Magazine as a Leading Lawyer, a Top Ten Elder Law Attorney in Illinois, and a Top Leading Women Lawyer.
Katie has also been selected as a Top Elder Lawyer by Chicago Lawyer.
Experience & Education
Katie has been licensed to practice law since 2001. Prior to joining the firm in 2005, she practiced with the Cook County Public Guardian where she represented the Public Guardian in disabled adult guardianship estates and where she served as the Guardian ad Litem (GAL) for abused and neglected minors in child protection proceedings. With the Public Guardian, Katie gained a wealth of experience representing clients with sensitive legal problems, administering complex estates, navigating challenging care issues, and litigating difficult cases of abuse, neglect, and financial exploitation.
Juris Doctor from DePaul University College of Law
Master of Arts in English Literature from DePaul University
Bachelor of Arts in English Literature from Virginia Tech
Professional Development
National Elder Law Foundation
National Academy of Elder Law Attorneys, National and Illinois Chapter
Academy of Special Needs Planners
Illinois State Bar Association's Elder Law Section
Chicago Bar Association's Probate and Elder Law Committees
"Medicaid Planning for Spouses, Blended Families, and Life Partners" – coauthored with Helen Mesoloras for Illinois Institute of Continuing Legal Education's 17th Annual Elder Law Short Course
"The SECURE Act and Planning with Retirement Benefits" – coauthored with Helen Mesoloras for Illinois Institute of Continuing Legal Education's 16th Annual Elder Law Short Course
"Chapter 4 — Drafting Self-Settled OBRA Trusts" – coauthored with Janna Dutton for Illinois Institute of Continuing Legal Education's "Special Needs Trusts" (2020 Edition)
"Planning with Retirement Benefits" – coauthored with Helen Mesoloras for Illinois Institute of Continuing Legal Education's 15th Annual Elder Law Short Course
"Fixing Problem Trusts Through the Amazing Trusts and Trustees Act" – coauthored with Helen Mesoloras for Illinois Institute of Continuing Legal Education's 14th Annual Elder Law Short Course
"In Sickness and in Health: Estate Planning for Married Couples" – coauthored with Helen Mesoloras for Illinois Institute of Continuing Legal Education's 13th Annual Elder Law Short Course
"Retirement Benefits in Medicaid Planning" – authored for Illinois Institute of Continuing Legal Education's 12th Annual Elder Law Short Course
"Advanced Issues in Tax and Medicaid Planning with Retirement Benefits" – authored for Illinois Institute of Continuing Legal Education's 8th Annual Elder Law Short Course
"Contested Guardianships – Pre-Trial Prep: Discovery and Pre-Trial Discovery Motions – coauthored for Illinois Institute of Continuing Legal Education's 5th Annual Elder Law Short Course
"Life Care, Estate, and Retirement Planning: Beyond the Documents" – authored for Illinois Institute of Continuing Legal Education's Advanced Issues in Long Term Care
"How to Combat the Financial Abuse of Elders" – authored for Illinois Institute of Continuing Legal Education's Basics of Elder Law
"Life Care Planning Beyond Estate Management" – authored for the Illinois State Bar Association
"Elder Financial Exploitation & Legal Interventions and Remedies" – authored for Lorman Education Services
"The Basics of Probating a Decedent's Estate: How to Protect the Disabled Person's Interests" – self-published
"When Good Powers of Attorney for Health Care Go Bad," "Guardianship Matters," and "Our Disabled Children and Grandchildren" – authored for Chicago Hospital News